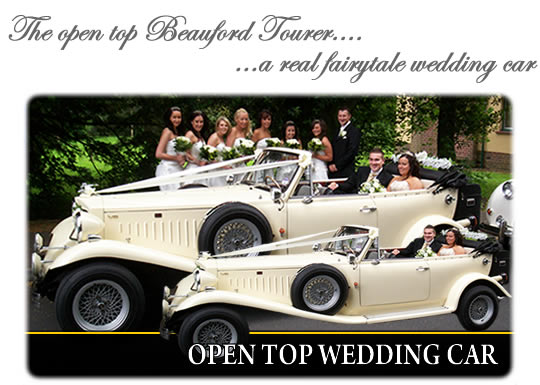 Cream Beauford Convertible Wedding Car Hire In Wigan And Lancashire
Many regard our Beauford as the 'fairytale' wedding car; the Beauford is a lovely combination of traditional styling and modern reliability and is a wonderful addition to any wedding day! Our Beauford's styling is influenced by the large touring roadsters of the 1930s, and with its large wheel arches, exposed spare wheel, disctinctive front grille and chrome headlamps reflect a bygone area when the roads were more open than they might be today!
A Wonderful Wedding Car Come Rain Or Shine
The Beauford comes complete with a retractable roof that can be opened or closed depending on the conditions of the day. Should the weather remain favourable the happy couple can enjoy the open air and sunshine as they travel between venues but the hood can be pulled over at short notice so, if things take a turn for the worse, passengers can remain dry.
As the Beauford Tourer has been designed with weddings in mind, brides will find that access to and from the vehicle is surprisingly easy and the passenger seating area includes a generous amount of footspace to allow for even the largest of dresses! The running board on both sides of the Beauford also helps the bride and groom to alight with the minimum of fuss.
Book Your Beauford Journey Today!
For further details on wedding car hire in Wigan, Leigh, Chorley, Skelmersdale, Eagley, Garswood and across Lancashire please call the Northwest Executive Wigan Wedding Car bookings office on FREEPHONE 0800 197 6579 (free from most landlines, mobile operators might charge) or alternatively call our head office number on 01204 522 422. We'll be happy to help with rates and availability. If you'd like to send a message online please use the enquiry form; we check for new online enquiries throughout the day and will reply within a couple of hours.